Fulfill your dreams.
Travel Route 66
What are you waiting
for? Just go!
Ride. Eat. Sleep.
Repeat.
Scroll
App Features
WESTBOUND & EASTBOUND DIRECTIONS
Navigation 66 is a reliable guide for every traveller on Route 66, whether travelling from west to east or vica-versa
ROUTE A or ROUTE B
On ROUTE A you will find all the most famous attractions of the Mother Road. Route B will help you discover chosen older or less known parts of Route 66
OFFLINE NAVIGATION
Offline navigation will still reliably and safely take you through passages of Route 66 without mobile signal
ALWAYS UP TO DATE
During the whole year we are watching closed access road on Route 66 and always navigate you on current detours. We are constantly updating the POI directory, so you won't miss anything interesting on Route 66
TURN BY TURN NAVIGATION
Enjoy advantages of our turn by turn navigation which will safely keep you on historic Route 66 and will show you all the attractive POI on the way
MORE THAN 900 POI
Discover more than 880 sites on Route 66 which are worth seeing on your travels. We are constantly looking for new sites and points of interest for you every day
EASY TO USE
If you are riding a motorbike or a car, our application is always easy to use. It is specifically designed in a way, so it can help you enjoy your trip
SAVE YOUR TRIPS
Prepare your itinerary in advance and then you can activate the saved routes when you need them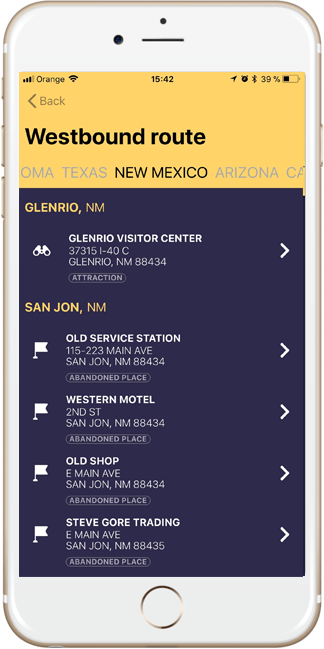 More features
NAVIGATE TO 66 START POINT
Are you located in Chicago or Los Angeles and would like to start your trip from the official start point of Route 66? No problem :)
POI NAVIGATION
Did a selected point of interest captivate you? You can access navigation directions directly from the detail of POI
SEARCH BY POI
Would you like to access the navigation directly from the hotel or other POI in your final destination city? Just enter it while planning your itinerary
ROUTE 66 NEWS
You can read articles from server Route66News.com directly in the application
EVENTS
Heading for a trip on Route 66 trip? Have a look if there is something interesting happening in your neighbourhood and experience one-off events on your adventure
TRAVEL REPORT
Report any incident on Route 66 and let other travellers know about it
S.O.S
Did you get into trouble on Route 66? Call for help directly from the application!
SPEED WARNING
You also control your speed in navigation. If you exceed maximum allowed speed, app will alert you by color change.
No more getting lost on Route 66
We make it easy for you to explore the Mother road
Don't trouble yourself with maps and/or turnings, just enjoy your trip. Be an easy rider!
Video
Explore how Route 66 navigation works
Watch the video and find out, how application Route 66 Navigation works.
Awesome, right? Download now!
Frequently asked questions
Get your answer today
How can I get my Route 66 business on your app?
Our goal is to help all businesses related to Route 66, so you are more than welcome. It's easy, but we need your cooperation. Please, send us good quality photo of your business, but use your own pictures, or images with free copyright for use in our app. Also we need information like: NAME OF BUSINESS, STREET AND NUMBER, CITY, STATE, PHONE, URL, DESCRIPTION, OPENING HOURS, (c) TEXT (name of author), (c) IMAGE (name of author). Please, remember, that description must be written for travelers, just describe what about your business is and avoid useless marketing phrases, please. In the interest of quality of service for travelers, we reserve the right to shorten or modify your text, or in certain cases to disallow the posting.
Does the app work outside of the USA?
Yes and no. The whole Route 66 Navigation app content features are working properly wherever an internet connection is available. However, the functions associated with your location do not work in the navigation part of the app outside of the USA. Conversely, if you manually configure the route from point A to point B on Route 66, you can prepare and save the itinerary of your entire Route 66 trip outside of the USA.
Can I use navigation in locations other than Route 66?
Yes, but with some limitations. Navigation is set to connect travelers to the nearest Route 66 point and allow them to ride Route 66 in the selected direction, either west or east. It may, therefore, be offered a longer or less efficient route compared to other navigation systems. Instead, directly on Route 66, your app will navigate only on Route 66 to show you a route on Route 66 even if you turn out to another route. :)
I found an error in the app
We've worked hard to bring you an app with top-quality content. We also went through the entire Route 66 twice to make sure that the selected routes are set up correctly. However, an error may occur. Also, in the name of other travelers, we will be grateful for any feedback that will help us improve the features, content, or services that the app brings. Please write to us, we pay attention to every message.
Will you add new features to your app?
Of course! We believe that thanks to the great interest of Route 66 travelers, we will be able to continually improve and expand our application with new features to bring all travelers the best experience during their trip on Route 66.
Contact us
If you have any questions, get in touch here.
Our location
Touch Media s.r.o., Bratislava, Europe
Send Your Message
Our working hours
Mon-Fri 8.00AM to 4.30PM CET
Don't forget to download now